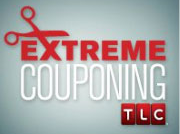 TLC is profiling FOUR new couponers on their new series 'Extreme Couponing' which airs tonight at 8pm Central. See more about this new show HERE.
Tonight's "new series" episodes will be featuring the following people:
Rebecca Routson from St. Louis, MO
Tiffany Ivanovsky from Houston, TX
J'aime Kirlew from Washington D.C.
Jessica Hacker from Caldwell, Idaho
Would you like to meet these extreme couponers early?